Click here to see the Best BB Guns available in 2017!
Most BB guns are passed off as children's toys, although in all honesty they're about as safe as a lawn dart (an old-timey toy wherein you throw huge darts on the lawn to see who could land the farthest or the most accurately that's been banned from retail because of all the damage it does to people when played with). However, this doesn't change the fact that these are complex guns (not firearms since they don't use gunpowder to work) that can do significant damage to a person if you have a quality metal BB gun on hand and when used with steel pellets that can ricochet off surfaces or penetrate skin when fired off.
These aren't paintball guns; these are as close to real guns as you can get, which means you should be as responsible for BB guns as you would real guns. Airsoft guns are also referred to as BB guns, but that's a misnomer that can ultimately be misleading at best and dangerously risky at worst. Airsoft guns are safer with softer pellets that don't do skin penetration and won't bounce off of surfaces when you fire them, thus these toy guns really are much safer for hobby shooting or war games.
The Best BB and Airsoft Guns on the Market to Date
Crosman CCP8 B2 Vigilante CO2 .177-Caliber Pellet and BB Revolver:
This particular BB gun makes use of carbon dioxide to propel projectiles out of its chamber.As its name suggests, it makes use of BBs or pellets as its bullets. The CrosmanCCP8B2 Vigilante (no, that's not a misspelling; the company really is named "Crosman") also offers a slightly higher velocity than some other models out there, even though it's pretty low in general at 453 feet per second. It's powerful enough for use of responsible children, but not too powerful. Regardless, you should teach your kid (or yourself if you instead want to buy this BB gun for your personal use) to follow safety precautions like wearing protective eyewear and making sure the gun is unloaded when it's not in use.
The Vigilante scores in varying degrees when it comes to its noise (has a lot of echo), accuracy (incredible surgical precision), and weight (it's hefty for a BB gun). For a revolver that's about two pounds, the CrosmanCCP8B2 is quite hefty and heavy. However, its accuracy does more than make up for its heaviness for a BB gun. If you wish to do some target practice at a shooting gallery or some other area where your targets are 10 yards away, the Vigilante can handle that distance without falling short. It's not the perfect revolver though; its plinker is quite loud and annoying, echoing whenever in use. Other than that, this is quite the impressive BB gun all-in-all, epitomizing everything that's great about a quality gun of its metaphorical caliber.
Daisy Red Ryder 1938 BB Gun:
A classic BB gun that many young boys want for Christmas (but they should be responsible and careful enough to deal with this toy gun, because if not, they could take an eye out with it), the Daisy Red Ryder is well-suited as one of the best BB guns for kids around that isn't as borderline dangerous as some other guns are. That's because certain BB gun versions of the rifle, shotgun, semiautomatic, and pistol handgun are about as close to firearms as you can get, including high-velocity projectiles that could penetrate skin. Make no mistake, this gun can be dangerous too for those who are careless or who believe it's a harmless toy gun, but not as dangerous or non-intuitive as some other BB models are out there.
All the same, this gun is slower than the Vigilante, offering 350 feet per second velocity for its BB (a much safer speed), which makes it far less dangerous to deal with compared to certain other plinkers out there for sure. What's more, as slow as it is, it has a bigger firing range than the Vigilante, allowing it to hit targets that are 30 feet away. Those are its main selling points: It's more accurate and less dangerous than the Vigilante or similar BB guns, so it's safer to hand to your children in a sense. At a distance, your child can use the Red Ryder to shoot cardboard and cans at a distance with little to no problem; it's also easy to use. You just cock it, aim it at a target, then shoot.
Colt Defender Pistol (Black, Medium):
In regards to theColt Defender, it's a great pistol BB gun on the market, plus few other pistols can match its coolness, style, and effectiveness. In short, it's a perfect marriage of form and function in more ways than one. This highly rated "toy" gun doesn't feel like a toy. It's quite realistically handles like a gun thanks to its heaviness and dashing good looks. It's made of metal but has plastic grips. However, it weighs as much as the real deal. According to many reviewers, it can really help get your child started into gun collecting when he's of legal age. The BB Colt Defender Gun is essentially a good practice pistol until he gets the genuine article, which is a real Colt Defender.
It's the same way a boken or a wooden sword is a good practice sword until you can get the real thing, which is a katana. The Colt Defender BB Pistol even fits all standard gun holsters, at that. One thing that's different about the BB version of the Defender is that it has less "kick" or blowback, thus you can get a pretty accurate BB gun for beginners who aren't used to recoil (they can learn how to handle it when they're adult gun owners). You can get a total of 80 to 100 shots out of the carbon dioxide canister of the BB Defender as well. However, it does have drawbacks, like the fact that when you're faced with cold weather, the canister for your gun won't work. The 16-shot magazine is also non-removable, which is a drag.
Crosman M4-177 Pneumatic Pump Air Rifle:
Meanwhile, you'll get the BB equivalent of the AR 15 with the Crosman Air Rifle. It's a cool-looking gun of the pneumatic pump variety that can also make use of airsoft pellets, which are in many ways the safer toy gun projectile choice compared to the more responsibility-laden BBs (as mentioned in the intro, these are softer bullets with zero ricochet). It comes complete with an adjustable stock, which makes it easier to use for different age groups. It's a good BB gun (or airsoft gun) for children who are age appropriate for it, plus the plinker has quite the great look for it. The body of the rifle is mostly plastic, but it's not so distractingly plastic you'd swear it's a gun attachment for a videogame console.
What's more, for something that's more plastic and metal, it's still quite the heavy and solid gun which even comes complete with a scope that works for about the 50 to 75 foot range. It's not exactly a 3x to 9x sniper-grade riflescope, but it's still a decent-enough scope you'd expect from a BB gun. If you want a practice AR 15 that won't have you risking life, limb, or your eyes (although you should still wear protective goggles just in case), then the CrosmanM4-177 Pneumatic Pump Air Rifle is the BB gun for you. It's easy to use as well and even though it's not made mostly of metal and wood, the important thing is that it's a simple, straightforward gun that works and won't make you feel gypped.
Crosman 760B Pumpmaster Air Rifle:
Here's another AR offering from Crosman known as the 760BPumpmaster Air Rifle. It differs from the CrosmanM4-177 Pneumatic Pump Air Rifle in that it makes use of multi-pump pneumatics this time around and has a different look and feel to it. It's also a certified Crosman BB gun favorite around that offers quite the amazing gunning experience for all those BB gun enthusiasts out there. It's been so popular for so long that it has sold 10 million units for over 40 years. If that's not enough, it could do something that the M4-177 couldn't do, which is to double as a BB repeater and a single-shot pellet gun. This three-pound wonder is an even better starter air rifle than the CorsmanM4-177.
That's not to say that the M4-177 is a bad scope or anything (or else it wouldn't have ended up in this list), but the Crosman760B simply offers so much more that an already great gun model like M4-177 looks inferior to it. To wit, the 760B has a forearm and stock that's made of durable synthetic material that can take a lot of abuse yet still look great. It's one of the more durable BB guns around for sure. There's also the fact that the Pumpmaster is a proven economical rifle that can launch BBs for 625 feet per second or pellets 600 feet per second. The grip is checked, plus the pump handle has ergonomic indentations that ensure you won't hurt yourself with prolonged gripping of the gun.
Beretta PX4 Storm 16 Shot CO2 Air Pistol- Shoots BBs & Pellets:
Here's another dual-use product that shoots pellets and BBs with its 16-shot carbon dioxide cartridge. The Beretta PX4 Storm is a BB gun that could also be an airsoft gun depending on what projectile you choose to use. This makes this toy gun one of the most versatile guns around. The carbon dioxide canister isn't included with this pneumatic weapon, but once you insert it along with your BB or pellet ammo, you will get a close feel of the real thing. It's even closer to a real Beretta than an e-cigarette is to a tobacco cigarette. Shooting those loads all over your targets feels right and satisfying somehow, especially when you achieve marksman-level precision with these guns.
Although they're not really firearms due to their lack of gunpowder, the overall impact, recoil, and heavy reverberation from these heavy duty BB gunsare pretty much spot on to what you'd experience from a Beretta, as many an actual gun owner of the firearm variety would readily take note. You can shoot the eight-shot rotary clips and have the PX4 Storm's repeater ensure that your trigger finger won't even have to pause after every reload. As you finish one clip, the BB gun will flip the magazine and release the remaining eight shots like magic, keeping up with the speed and enthusiasm of your trigger finger all the while. The gun's grip has also been designed to make sure that loading your 12-gram carbon dioxide container is a breeze.
H&K MP5 K-PDW Semi Auto Steel BB Gun: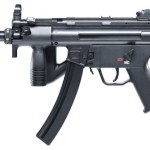 This personal defense weapon (that's what the "PDW" in the "H&KMP5 K-PDW" stands for) is a semiautomatic steel BB gun that provides heavy duty BB gun action for advanced users who are disciplined enough to know how to handle such a weapon. This compact gun has been developed for use in vehicles and aircraft crew members. It has quite the powerful punch at 400 feet per second. It's not as powerful as the high-end 600-625-FPS Crosman760BPumpmaster Air Rifle, but it delivers the desired results of a topnotch BB gun all the same at its designated FPS rate. Like an actual bullet, it's small but powerful. This shooter works all-day, every day, plus it provides BB shooting action for the entire (gun-toting) family.
Who wouldn't want to have fun with a carbon dioxide submachine gun with 12-gram carbon dioxide cartridges and 40-round removable banana mag that holds steel BBs? It can also be set at semiautomatic if you wish and it has realistic firearm recoil when you use it. If that's not enough, then how about the facts that it's lightweight, it's easy to shoot, it sports a forward grip, and it offers a folding stock? Of course, because it's light, some dedicated BB owners might complain about its lightness. Unlike with firearms where the more compact the better, BB guns have more value to them if they're as heavy as real guns. It's not too loud either, but that's a good thing for a BB.
Umarex EBOS Tactical BB Rifle 360 Rd Capacity- 540 FPS:
Umarex EBOS (Electronic Burst of Steel) is another steel BB gun that more advanced BB users would appreciate. As much as parents would prefer that their children deal with softer airsoft pellets with zero instances of ricochet and mishandling, the experienced BB users from kids to teens or even adults prefer air or BB guns with a little more bite to them. Something more akin to a gun and less like a toy pellet gun you get for Christmas. This tactical BB rifle should do the trick in satisfying older kids or experienced teenagers who wish to take the responsibility of handling a weapon that's as close to a gun as you can possibly get without a license.
The .177 caliber UmarexEBOS Tactical BB Rifle comes complete with one, four, and eight bursts of shots. It's like a BB shotgun in the sense, plus it has a semiautomatic action to boot. Reviewers particularly love the EBOSTactical's 540 feet per second velocity (that comes close to what the 600-625-FPS Crosman760BPumpmaster Air Rifle offers), which is powerful enough to really leave an impact but not too powerful to cause accidental harm for any responsible BB rifle user out there. This weapon even has 4-sided tactical railing that enables you to do gun customizations quite effortlessly. Any enhancements you wish to add unto your UmarexEBOS can and will be catered to in a jiffy. Both rear and front sights are adjustable to boot.
Smith & Wesson M&P Airgun (Medium):
This might be the best BB pistol on the market. For something that costs about $25, it offers quite a lot, especially in terms of its faithfulness when it comes to its Smith & Wesson design. The Smith & Wesson M&PAirgun is a black, medium-sized BB airgun with intricate designs taken straight from the source. It looks and feels like the genuine article because of its weight and look. The makers of this BB pistol have done their research and looked up the inner mechanisms of the original S&W. It makes use of a small and portable 12-gram carbon dioxide cartridge hidden in the grip of the gun, which powers the BB repeater of the convincingly replicated pistol.
It even has rear and front sights that are fixed, like the ones found in the actual Smith & Wesson pistol. If that's not enough, then how about the fact that it's quite the cost-effective gun in that even though it costs cheap, its construction is anything but low-grade? If you have a school play or a musical set in the Old West and you wish to have a convincing Smith & Wesson prop gun, then this is the BB gun to buy. You can even use the BBs to shoot out actual (non-human) targets depending on the accuracy of your marksmanship. It's a gun that doesn't require much maintenance or cost (the cheapest firearms range from hundreds to thousands of dollars in overall price).
Desert Eagle Blowback .177 BB and Pellet Pistol:
In line with the proud BB tradition of offering airgun versions that border on being replicas of real guns comes the Desert Eagle Blowback .177 Caliber BB and Pellet Pistol. Everyone knows or has heard of the famous Desert Eagle. This is a world-famous name that many gun connoisseurs will immediately recognize. It's synonymous for quality, power, and dynamic performance in handguns. The carbon-dioxide-powered version of the Desert Eagle is able to live up to the name by being a premium-class BB pistol in its own right. Its highlights include faithful replication of the look and feel of the Desert Eagle just short of actual bullets and gunpowder usage. At a quick glance, you'd swear it's the real thing.
Even the most loyal gun enthusiasts need closer inspection to analyze its genuineness. What's more, it has a blowback pellet and BB system which offers recoil action just like the genuine article Desert Eagle. It has a real kick to it so you better learn how to grip it right instead of gripping it like you'd see in cop shows or action films. The blowback might hurt you if you're not careful. Another highlight and selling point of the 2.2-pound Desert Eagle Blowback .177 Airgun is its Picatinny rails that have been integrated into the signature design of the gun, which makes it easier to mount lamps, lasers, and optical sights on the weapon. This eight-shot beaut is a must-have in any worthwhile BB and pellet gun collection for sure.
Conclusion
When you get the real deal BB guns, you should be as responsible for them as you would with real firearms of the shotgun, pistol, and rifle variety. They're so harmful you can scare off small pests or do small game hunting with them. The steel pellets offer much more of a punch than the soft rubber bullets of an air gun. As such, you should never point that gun on a person or hard surface. At any rate, like with everything else, your choice of BB gun will depend on what you're looking for. You're the one who sets the rules on which gun is the best gun according to your individual needs.
If you want good replica guns that are airgun versions of the more famous, expensive guns out there, you can find several in this list. You can even judge them by FPS or feet per second velocity, with the caveat that the more powerful the gun, the more dangerous ricocheting bullets will end up being. You also have the option of dual-projectile guns that can accept both BBs and airsoft pellets. The Crosman offerings are quite numerous because this is the brand that churns out the most high-quality BB guns around. If you want classic high-performance BB guns, you won't go wrong with the likes of the timeless Daisy Red Ryder 1938 BB Gun.